---
Home ► Quick Access ► Historical Reporting ► Scheduling
---
How to Schedule a Report
Introduction

Report Templates can be scheduled (in advance) to run at various times.
Instructions
Log-on to the OmniIntelligence website

Click Reports -> Historical

Click "Manage Schedules"

Click "Create New Schedule"

Select appropriate as desired. More details are on the following page.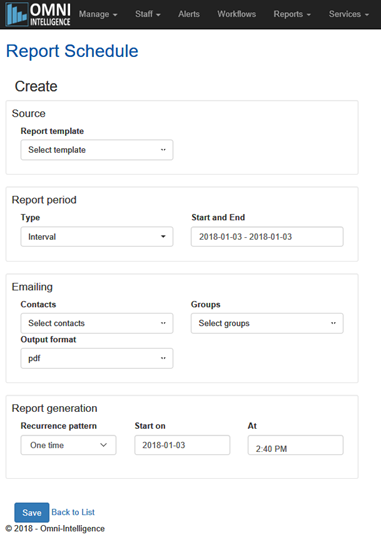 Click Save to return to the list, or "Back to List" to cancel the entry.
Report Options
Report Periods
Interval

Today

Yesterday

Last Week (refers to the last whole week from Monday through to Sunday).

Last Month

Last Year
Emailing
Output Format
Reoccurrence Pattern
Once – Starts on X Date, at y Time

Daily – can be set to reoccur every x days

Weekly – can be set to reoccur every x weeks, and what days of the week it will run

Monthly – reoccurs every x months, on specific date of month, or on specific weekday, at specific time